T & A HR Solutions in Gurgaon – Your Job Search Ends Here
Gurgaon, now officially renamed Gurugram holds an enviable position of being strategically located close to the capital, Delhi. As a satellite city of the national capital, Gurgaon, enjoys a position as a leading financial and industrial hub. It rose to prominence in the 70s, with the setting up of the automobile Maruti Suzuki factory and today boasts of being home to 250 Fortune 500 companies. and when it comes to Placement or Recruitment Agencies , T&A Solutions is the best Placement Consultants in Gurgaon.
The IT Sector Job in Gurgaon
With several IT companies located in Gurgaon, there are many openings for jobs here. T&A HR Solutions is among the many IT Job Consultants in Gurgaon. A professionally managed company, they have on their management team proficient IT personnel to source and identify the right candidates for the right job.
The recruitment strategy job consultants in Gurgaon
While there are several job consultants in Gurgaon, T&A HR Solutions adopts a unique recruitment strategy which caters to requirements of both employer and employee. With a perennially updated database on hand, this Job Consultancy shortlists candidates based not merely on their academic qualifications but also on their mental make-up and work culture fit. You will agree that since a greater slice of our working life is spent in the workplace, the team should be congenial and like-minded in perspective. Like-minded teammates will naturally pull in the same direction and the results will be better.
Register immediately IT job consultants in Gurgaon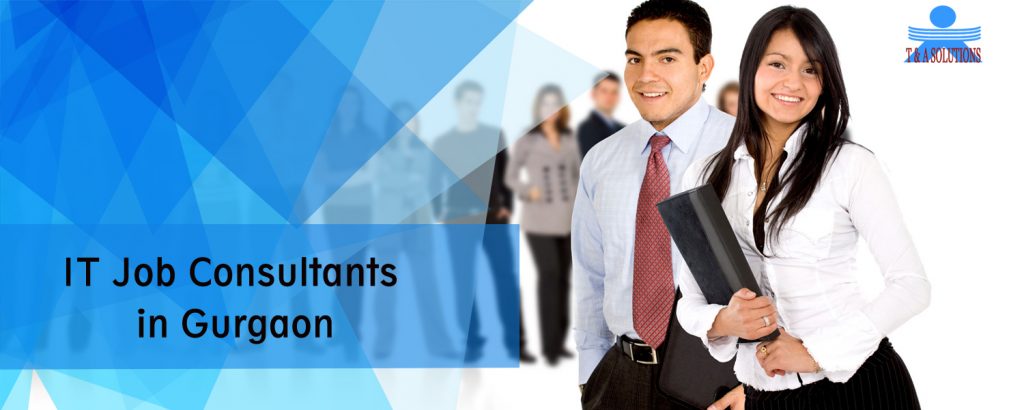 What are you waiting for? Register immediately with T&A HR Solutions not merely for a job but for a career, a career that will shape your growth prospects and see your meteoric rise in the industry. Anyone can provide you a job but if you are serious about growing your career then you need to look to the professional IT job consultants in Gurgaon and work with them for a bright future.
Who is Genuine IT Job Consultants in Gurgaon
Gurgaon, being the pivot of the industrial and financial center of India, it is also numbered as the second largest city of Haryana. The hub of an industrial and financial sector of India contributes, as the third highest income begetter. Establishment of ample companies has turned massive crowd in the city to seek the perfect opportunities for the job. T & A HR SOLUTIONS of Gurgaon work as a bridge between legion and the opportunity. The recent times have seen a splurge in a number of IT firms across the country and abroad, providing a potential opening for graduates. Whether it's the economic capital Mumbai or the national capital of India, Delhi, consultant firms and Recruitment Consultants provide a good link for fresh graduates and talents to find a job which matches their caliber.
How IT consultants help in finding the job?
According to the survey, the need for manpower is greatest in IT and software sectors. India happens to the prime hub for services and manpower who are instilled with the required intelligence and skills. While there are many consulting firms, which help people to find a lucrative job. There is also an increase in recruitment firms who concentrate on a particular niche such as IT job consultants in Gurgaon. Year after year there are millions of candidates who pass out their graduation in IT sector, getting into the hunt of finding a reliable job in the IT and software sector. The job demand in IT sector is vast, opening greater scope for people to explore their skills. job consultants in Gurgaon concentrate on the niche sector of IT, hiring clients who are in look out for graduates, fresher and experienced candidates for their profile.
Work abroad
T & A HR Solution, one among the many recruitment firms in Gurgaon that since the demand of IT-based jobs has been on a splurge, the industry is in the lookout for talented manpower who can help grow the business using their expertise, making it one of the promising sectors for future economic growth. As the demand for manpower is continuous on international lands for expert Software engineers blooming every year, the candidates hired through various IT job consultants in Gurgaon have earned them respectable positions meeting their required demands.
How to connect to IT Consultants?
With the recent revolution created by the advent of the internet, it is no more a difficult or tiresome process to connect to the consultants as it was in yesteryears. Through the various applications available on smartphones as well as online job portals, candidates can connect to these job consultants in Gurgaon within few clicks. The process to connect to them is not as complex as it used to be once in a while. Unlike olden days, when individuals had to run from pillar to post knocking doors of many companies asking them regarding job availability and for the companies to post recruits on classifieds, the onset of consulting firms has made the process more feasible and less complex.
Medium to the right destination
Out of the many registered candidates who have applied for various IT and Software related jobs, agents working for various IT consultants in Gurgaon categorize each one based on their demand, expectation, calculating their qualification and past experience. Later on, matching them with the required criteria set by the clients, the HR consultants contact the potential candidates briefing them regarding the job and after their consent furthering the process of interview and placement.
Consultant firms and recruitment HR agencies have bridged the gap between the business and manpower, making the reach as well as networking a plausible aspect of placement.
Recent statistics have proven a splurge in the count of unemployed youth who are qualified yet are unable to find a job suiting their caliber. This has led to many ending up in jobs which is out of their league of qualification, creating an increase in the trait of career exploitation across the country.
Looking into the matter deeply, the reason for unemployment of qualified IT professionals happens to be a spurt in the population explosion, increase in IT graduates passing every year in comparison to the number of jobs available. Various firms and consultancy in Gurgaon have proven to a savior for people who are in look out for lucrative career opportunities.
Bridging the gap
Due to varied reasons, students who have graduated freshly out of college, as well as those who have earned a year or 2 experiences in their respective education field are unable to find a job for themselves. This has led to a huge gap between the firms and talents.
Job consultancy in Gurgaon plays a crucial role in linking the needy with the needful. They help in assisting individuals in finding right job which does justice to their area of study and expertise. In addition, they assist companies to find the right employee for their firm by initializing all the process usually carried out by the firms and forwarding the profiles of those who perfectly fit the bill.
Carrying on duties on behalf of firms
If you think, the work of a consultant is just limited to finding the right job for people, the work responsibilities are far more tedious than contemplated. Apart from finding lucrative career prospect for pupils, recruitment and IT job consultants in Gurgaon also carry out the process of arranging the required training process, briefing about the job, as well as assisting candidates to know where they can seek a job.
T & A HR Solutions is a consultant firm known to outsource talents, that other than helping candidates find the right job destination, the work of a consultant firm is not limited just to recruitment. It is also the duty of such agencies to conduct interviews, train and cross check through the personality traits of the candidates, only after confirming which is the profile forwarded to the consent companies.
Other areas of responsibilities
Recruitment firms dealing with sectors like job consultants in Gurgaon carry on the required information check about the company placed in the country. This leaves no room for any misunderstanding or fraud to take place. Candidates thus find recruitment through consultant firms a more authentic and reliable one shedding away the chance of being laundered of fraud.
Finding the listed candidates from various online job portals, the agents work in liaison with their clients consisting of various reputed companies in their database. Later on, matching the required criteria, the consultants contact the eligible candidates carry on rounds of interviews consisting of group discussion, Face-to-Face round with the HR, training, and discussions, briefing in order to make sure the candidates are perfectly suited for the post.
Thus, the onset of various HR firms and IT consultants in our country has proven to be a blessing and good harbinger who have reduced the load off businesses in finding the right manpower for their organizations and for the employees in finding the best-suited job by being a liaison between both.
In case you wish to know more or want to reach us, please note our following Address