The one-stop solution for job seekers – T & A HR Solutions, Placement Consultants in Mumbai
Bombay Meri Hai' was a popular ditty of the 1970s. Bombay or Mumbai as it is today called continues to charm the tourist and the businessman alike. A bubbling metro, bursting at its seams, it still boasts of several heritage buildings, historical spots and modern-day paraphernalia to enchant the tourist. To the businessman and the corporate houses, it offers unlimited commercial potential – major MNCs and prominent Indian companies have their headquarters in Mumbai. Further, the Reserve Bank of India and Stock Exchanges function out of Mumbai. Mumbai is an interesting place for your overseas partners; its old world charm and contemporary touch captivate everyone in equal measure. All these and many other reasons add up to Mumbai being the commercial hub of India
Job openings in Mumbai
Given its full throttled commercial activity, there are many job openings in Mumbai. Prominent among the Placement Consultants in Mumbai is the name of T & A HR Solutions. They are among the best of professionally run Recruitment Firms in Mumbai. It is a joint venture of professionals drawn from various segments such as HR, Engineers, and Masters from various other disciplines.
Why should you choose a Placement Consultants in Mumbai to hire your staff?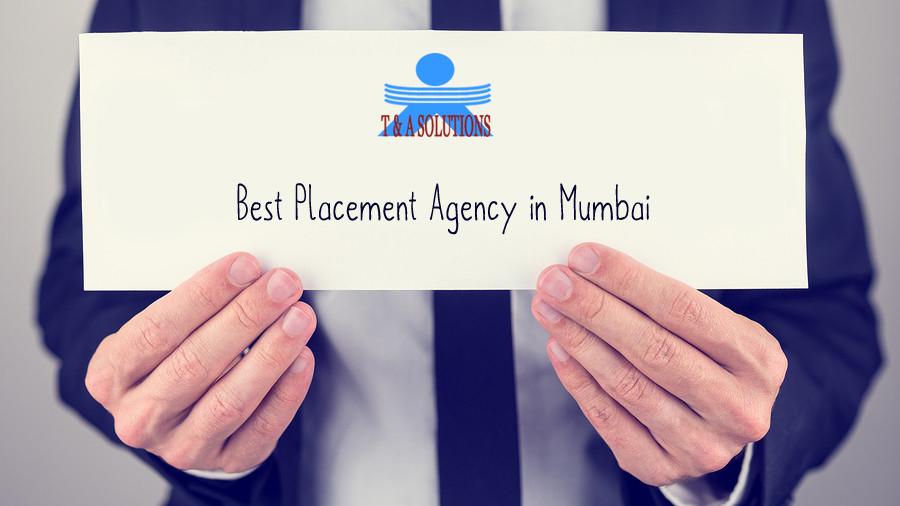 It makes business sense to leave the core competency to the professionals. So while you focus on your core business, the HR professionals of this reputed Job Consultancy in Mumbai will source and identify suitable personnel for your industry. Contrary to popular belief hiring a Placement Consultants in Mumbai is not an additional expense. It is a professional and time-saving move in the right direction. Time equates with money in the long term, time saved in the process of recruitment, translates into productive activity at the workplace. Productivity converts into a rising sales graph which means enhanced revenue. One simple step of hiring a professional recruiter can alter the sales profile of an organization.
A brief outline of their sourcing strategy
Being among the best job consultancy in Mumbai, they tailor-make their strategy for each corporate requirement. This Placement Consultants in Mumbai initially studies the work culture of their client and accordingly sources candidates who will adapt to the work environment. So you can be sure you will not get round pegs in square holes. It is only after a rigorous session of interviews that the candidates are sent by this HR Consultancy in Mumbai to the prospective recruiters.
As a professional Best Job Consultancy in Mumbai, T&A Solutions constantly updates their databank, to ensure limited turnaround time in providing candidates. They can provide you with a green hand or an experienced worker, depending on your requirement. Are you a job seeker? If yes, contact these dependable consultants of placement services in Mumbai for suitable placement. You will not be disappointed. Your expectations will be met with the following
Congenial work environment
With a promising career path
Perfect work-life balance
Attractive salary packages
Incentives for the family too eg. Children's education / Leave travel allowance
Who is Genuine Best Job Consultancy in Mumbai

Mumbai is known as, an economic city of India. It has importance in the sector of the commercial, industrial, and a financial stream of India. With all these facts, the city is generating multiple job opportunity. If you find yourself stuck at a place in your career? Nothing is working and you need a push? Well, you are at the right place in such a laborious time of your course. You have opportunities in Mumbai, now you only need to find them and crack them. To make your job easy, we can act as the vital link between you and your progress. It feels like you have been searching for such assistance for what seems like a long time. Keep your worries aside; you are now in the righteous hands. We are a team of professionals as your own personal job-guide. Our men aim to be the guiding spirit of the country's Human Resource into positive ventures. We have a way of your development and evolution.
How do Placement Services in Mumbai work ?
With the growing competition in industrial, manufacturing, service and IT sector, the need for manpower has also increased considerably. While there are immense job opportunities out in the market, with companies in dire need of eligible candidates, still there remains a gap between the organizations and people. The companies are unable to find the right match while on the other hand, eligible candidates remain oblivion of their existence. This is the time when the various Recruitment Agencies in Mumbai come for aid. HR Consultancy in Mumbai bridges the gap between communication and act as the intermediaries who take care of all the process on behalf of the company.
Why is Mumbai the chosen place for jobs?
Being the economic capital of the nation, Mumbai welcomes everyone warmly. In the quest for employment opportunities, people find it beneficial to approach some of the Best Job Consultancy in Mumbai who can assist them in finding a right job matching their caliber.
What are the advantages of placement agencies?
The Best Job Consultancy in Mumbai is a place where both the recruits as well as eligible candidates come under one roof. Many businesses are approaching Placement Consultants in Mumbai to find them lucrative candidates as this can help them in varied ways.
Allocate them enough time Placement Consultants in Mumbai
As there is an increase in the number of businesses, the quest to be on par with contemporaries is also on the verge. In order to stabilize their position in the market, it is also necessary for organizations to connect with job consultancy in Mumbai to bring on more manpower in their team. In past years, recruitment was the work of organizations only, but now Placement Consultants in Mumbai have taken up the work on their behalf. The businesses in the economic capital allocate the task of finding eligible candidates to Recruitment Firms in Mumbai, who thereby carry on the work of checking and communicating with the candidates
WHO ARE WE
T&A HR solutions is one the best placement consultant bureaus with expansion to the major cities of the country. Our fields of expertise are Engineering, I.T, Marketing, Real Estate, Textiles and many more. As a bridge between you and your company, we maintain our edge of credibility everywhere.
Have you recently passed out from college? Are you on the hunt for a job but are unable to know how and where to start? With the advent of technology, this trouble of wandering for days and months in search of a job, without knowing whether it is the exact job you are searching for is way reduced. In a competitive city like Mumbai, where lot many people arrives from across the country in search of a job without any idea of how to start about, various Job Consultancy in Mumbai has proven to be their rescue. It's not easier, but neither impossible…
As stated by placement consultants like T & A HR Solutions, there is a high rise in demand for jobs as more and more candidates are graduating every year. This puts a huge pressure on businesses to find the right talent who can help in growing themselves and the organization through their skills.
Metro cities like Mumbai are the hub for most businesses. People, from across the country come down to metro cities like Mumbai in search of jobs. With the growing competition in every field, finding a job, which does justice to one's qualification and talent, is a task in itself. Candidates often approach various Placement Consultants in Mumbai to help them find a lucrative job for themselves.
The many Recruitment Firms and Placement Agencies in Mumbai have turned out to be a blessing for masses especially those who have freshly passed out of colleges and who are looking out for a job change. The Placement Consultants in Mumbai act as a medium, between big corporations, and eligible candidates.
Organize profiles
The workings of Placement Agencies in Mumbai are simple and no complex. Candidates who are on job hunt are required to register themselves with the various job portals available on the internet. With technological advancement, it has even become easier for candidates to download the job portal apps on their smartphone for quick work.
After registration, these profiles are scrutinized by some of the Best Job Consultancy in Mumbai, who after checking through the various resumes, sieve out those profiles which are in tandem with the client's expectations.
Initial stages of Interview
The candidates are contacted by the Recruitment Firms in Mumbai who carry on the initial check, which includes the following process:
Contacting– After going through the profile, candidates are contacted by different Placement Services in Mumbai. These agencies use to shortlist candidates according to specific job skills.
Test – After the telephonic interview, candidates are allotted tests, which the Job consultancies in Mumbai forward, to the concerned clients. After receiving approval from them, the second round of interview is carried out.
Final Interview Scheduling – Once the candidates attain the eligibility for the post, the Recruitment Firms in Mumbai schedule their final round of interview with the company.
Thus, companies reduce the load and can expect best candidates on their team by letting the work of finding recruits to some of the best consultancies in Mumbai.
Outsourcing recruitments to various, Consultants of Placement Services in Mumbai have increased the percentage of productivity for companies as they have more time to concentrate on their businesses.
Mumbai Branch:
A 706, Sai Vihar, Plot No 78-80, Sector-15,
CBD Belapur, Mumbai 400614, India
Ph: +91-9569909808
www.tasolutions.in/hr