T&A HR Solutions is one of the most reputed job Placement consultants in Punjab. With an array of several industrial hubs located within the state, there is always a demand for industrial recruitment and T&A Solutions has been catering to the recruitment solutions since its inception. At TAHRS we understand the industrial needs and the clients' demands and are specialized in providing end-to-end human resource solutions meeting the specified time limit of our most valued associates. We believe in quality rather than quantity and thus understand a given profile with utmost care and details followed by exceptional headhunt to bring in the best candidates to fill in the desired profiles.
Genuine job placement consultants in Punjab
As a Placement Consultant, we maintain the meaning of our existence and keep ourselves updated with the changing trend of the job market. We offer services to varied industry verticals like IT, Telecom, Media, Healthcare, FMCG, Real estate, Human Resource to name a few. Our vision is to provide effective hr solutions and bridge the gap between candidates and industrial opportunity.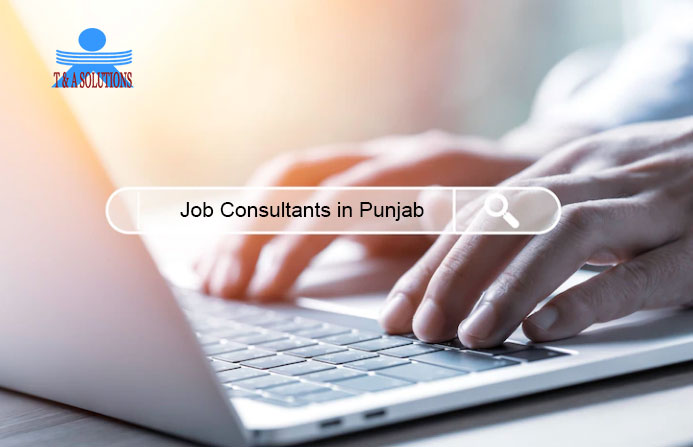 Interview Tips From Top Job Consultants in Punjab To Minimize Rejections
After facing rejections in job interviews, most candidates blame their luck. But that shouldn't be the case! It's the interview preparation that matters the most and this is what most job Recruitment consultants in Punjab would vouch for. But alas, instead of preparing for the interview battle, the candidates often devote time to grooming their appeal. This is the reason all efforts by job consultants Punjab go down the drain as candidates don't prepare well for the interviews.
No doubt, grooming partially helps but isn't the core concern of the interviewer. So, what to do? Take a deep breath as you are going to get familiar with the tips that indeed help in cracking a job interview:
Ask Questions That Matter
Most Punjab job consultants will encourage you to ask the right questions to your interviewer. Obviously, employers want to see your interest in the job. Asking dull questions like, what would be the job roles, how many people are there in the company, would kill the discussion. Instead, ask questions that show you are passionate about the job to synergize the efforts of job consultants who have connected you with the job opportunity. Act on the advice of job consultants Punjab and the results will follow.
Know Interviewer's Profile From Job Consultants in Punjab
Reputed job Recruitment Agencies in Punjab always emphasize more on knowing your interviewer rather than sitting as a numb in the interview. Usually, information about the interviewer could be asked in email interactions with job consultants Punjab. It helps you prepare for the interviews more confidently. Sometimes, it happens that a person with less experience sits for the interview and you never get a chance to showcase your technical skills. This is the reasons most Punjab job consultants try to reveal credentials of interviewers prior to the interview so that it doesn't come as a surprise later.
Showcase Your Skills That Best Fit Into Company's Culture
Though job consultants in Punjab put their best efforts to get candidates with the top skills it is the employer that closes the deal. That means even if you have the best talent and technical skills, but if you don't go along well with the employer during the interview discussion, your resume could be scrapped into a bin. This is why you should act on the advice of job consultants Punjab and try to show the employer that you are the best fit for the company's culture. Usually, the interviewer picks up that candidate which he finds comfortable to work with and he might not be the best talent. Just make sure you interact with Punjab job Placement Agencies to know what's company culture is and who could be the best candidate for it.
The Final Takeaway
Cracking a job interview is not just about technical skills. It's more than that and skipping advice of renowned Punjab job consultants could put you into troubles of rejections. Why take the risk? Better prepare for each aspect of the job interview and put interview tips learned from job consultants into practice during interviews. Success will be yours if you keep these interview tips from Punjab job consultants with you in any interview you face in the future.
Looking for reputed job consultants in Punjab who could help you prepare better for cracking the job interviews? Let T & A Solutions help in making you stand out from hundreds of interview applicants. Emerged as a pioneer among job consultants Punjab, we are here to give your career a boost it deserves. Call us now!
To crack the interviews in a more confident way, act on the advice of job consultants in Punjab.
Knowing about your interviewer's profile helps you present yourself better during the job interview.
Preparation helps make you stand out in the job interview.
Employers choose that candidate who can comfortably go along with them.